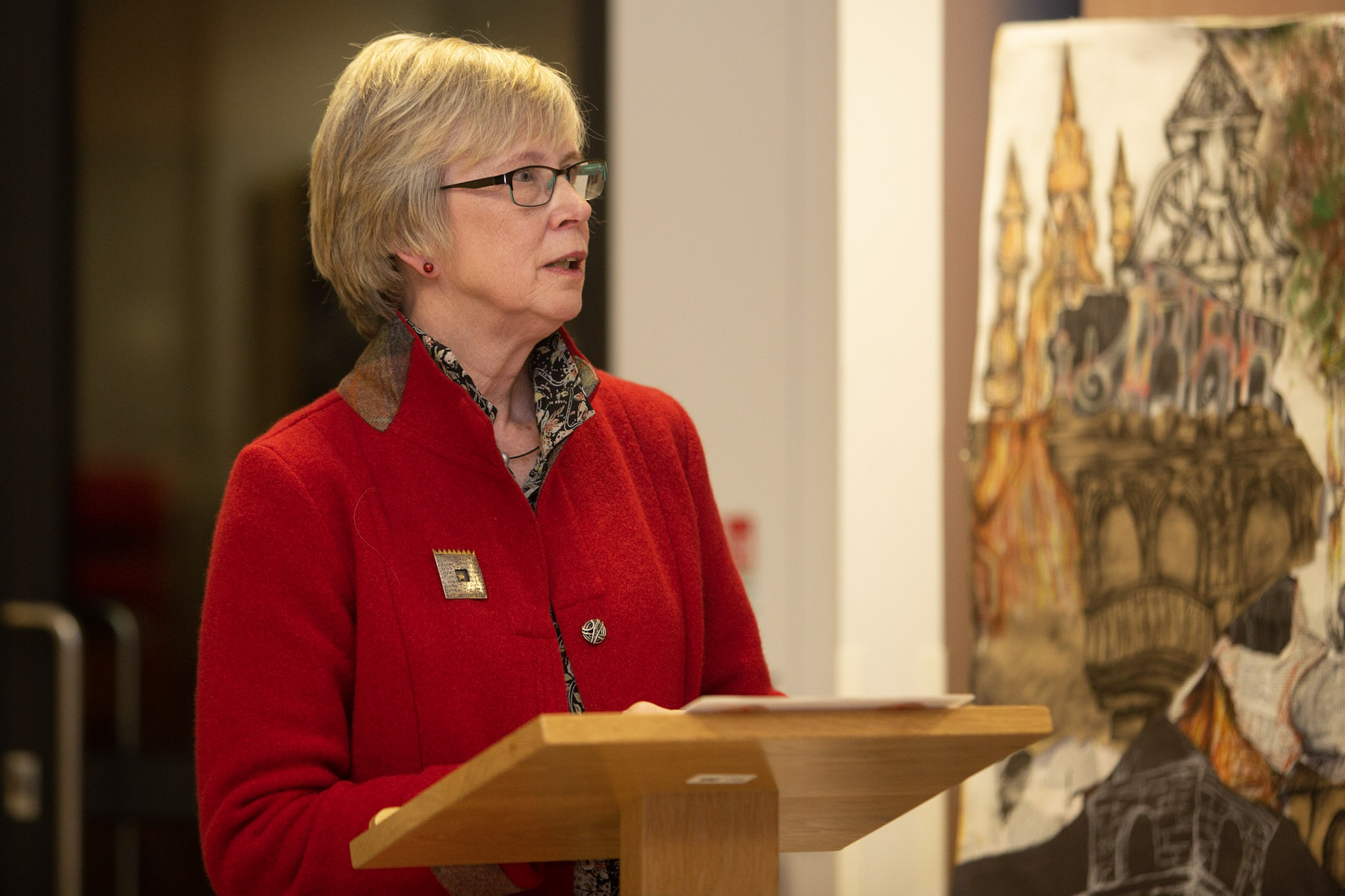 BOOKMARK

BOOK FESTIVAL 2021
---
Going Abroad and Coming Home
October 8-9
In memory of Christine Findlay
Postscript
Two days before 2021's BOOKMARK Book Festival, we were honoured and delighted to be given a headline in The Scotsman by Sarah Devine: Area Focus, Blairgowrie. In a lively article detailing some of the visiting writers, Sarah included our motto 'Going with the Flow' and remarked that it is a reminder of looking ahead to the future. 'With that in mind,' she concluded, 'those dreaming of a property in a spellbinding setting…should take heed and head forth to Blairgowrie and Rattray.'

And we were thrilled that our busy audiences had people who had indeed set forth from near and far. Our apprehension that there would be hesitancy about entering into group events was unfounded. All our writers and chairpersons were so impressed by BOOKMARK's atmosphere: 'I could feel the energy coming off the audience' said one and his feelings were echoed throughout the weekend.
After encouraging words from the Provost, Dennis Molloy, a great champion throughout his term of office, Billy Kay got the Festival off to a terrific start with his talk, including voice recordings from all over Europe, on the influence of the Scots Abroad. So much of his event resonated throughout the weekend; not only in Andrew Crummy's enthralling words on the Scottish Diaspora Tapestry and Lesley Riddoch's comments as she Chaired both events, but also during the next day listening to the historical novelist Shona MacLean and the horticulturalists Jim Jermyn and Ken Cox.
We travelled near and far: Chris Schüler took us along the Amber Route (thanks to Victor and Son, Blairgowrie for lending us some amber nuggets!) Ewan Morrison into a recognisable but frightening future, James Robertson into Scotland's past and present. Our final event proved to be sensational: the extremely moving words, songs and music of 'Jock's Jocks' and memories, by Andrew Hodge and retired policeman John Alexander, of the seasonal workers who flocked to Blairgowrie's Berry fields. If only we'd had another hour…(but they'll be back!) We were all so thrilled by the writers and chairs who stood by us and made BOOKMARK 2021 happen.
Our Book of the Year 2021, Merryn Glover's Of Stone and Sky was announced ('I'm in orbit!' said Merryn) James Robertson spoke about all the young writers shortlisted for the Christine Findlay Prize – a new annual collaboration with Blairgowrie High School to commemorate BOOKMARK's founder who sadly died in July – John Swinney, Deputy Prime Minister, handed over the prize to Keira Doig.
So many to thank from our principal sponsors (Event Scotland, The Gannochy Trust, Proctor's, the Findlay family, Wood Leisure) to the team at Blairgowrie's Community Campus, Horsecross Perth for such a professional technical set-up and Waterstones Perth for providing a bookshop, and Jillian and her team at Something Special Flowers, Blairgowrie, for transforming a school hall into a little Botanic Garden. 'All very efficient and professional as usual' said one of our Patrons. 'Such a wonderful Festival and an attentive and receptive audience…I liked the atmosphere' from one of our guest writers.
Audience members are always impressed by the support from local businesses and of course we are only too happy to promote them too. The Ivybank Lodge, where we accommodate our authors, has just been awarded the AA Best Guesthouse of the Year in Scotland. Local bookshops, Booklore and Adventure into Books and our first-class library set up mini box offices. All the BOOKMARK Team, committee members, helpers on the day, are volunteers and the Festival could simply not happen without them.
Our aim is to provide a Book Festival that is friendly, informative and good fun for everyone. It doesn't matter if you're not a reader - all anyone needs is an open mind! Comments such as 'We don't have a garden, and know nothing about gardening, but that event [on gardening with Ken Cox, Jim Jermyn and Fiona Armstrong] was absolutely riveting!' was to be heard in different versions throughout the weekend.
It's not often that Lady Macbeth is thought of as inspirational, but her words, echoing through the centuries from nearby Dunsinane Castle, 'Screw your courage to the sticking place and we'll not fail' certainly ran true to us all on the BOOKMARKTeam.
We look forward even more positively now to 2022!
Gail Wylie
Chair
To read Gail's 'Final Thoughts', please click here

Our final event of the year is a celebration of George Mackay Brown, led by the popular poet Jim Mackintosh, on November 6th at 2 pm at St Catharine's Hall, Blairgowrie. Click here for more information.