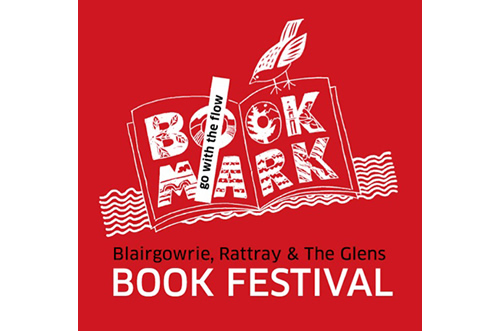 BOOKMARK

- Book of the Year 2021
---
Book of the Year Award 2021
In 2020 BOOKMARK inaugurated its Book of the Year Award as a response to cancelling our popular Festival, usually held each October in Blairgowrie, Perthshire. This Award proved so successful in terms of publicity (not just for us but also for all the authors on the shortlist), community involvement, creating relationships with publishers, agents and writers that we have decided to make this an annual event.
The criteria for the Award remains the same: all books must show originality, be engaging reads and most importantly are our top recommendations for any book groups to have in-depth discussions. Many of the writers, if not already well-known, deserve to be; winners of other major literary prizes are not included.
The prize is a silver bookmark created and made by our local silversmith, Sarah Cave, and an invitation to the next year's Festival. We are delighted that the 2020 winner, Rachel Joyce, will be attending our live October Festival (Covid rules permitting) to talk about her book Miss Benson's Beetle.
The five judges for 2021 include two from last year: Rosemary Goring, one of our Patrons who is also a writer of fiction and non-fiction and former Literary Editor of The Herald and Pat Richards, representing Blairgowrie Development Trust. Three new judges are: Magnus Linklater, another of our Patrons and a well-known editor, journalist and writer; Shona MacLean, writer of historical fiction and one of the shortlisted 2020 authors; Graham Williamson, retired English teacher and lecturer.
Once again, all the writers and publishers on the shortlist are delighted to be included and involved with BOOKMARK.
'a great idea having a community book selection and what a great list!'
'we're really delighted to have been chosen as one of your titles – and in such great company too.'
'Hooray! That's really exciting – thank you so much!'
'I'm honestly blown away…Thank you so much Bookmark Festival, this feels magical and wonderful'
'I'm chuffed to announce I'm one of 6 authors shortlisted…thanks to @bookmarkblair'
'This is so cool!'
Shortlisted Books:
Mr Wilder and Me by Jonathan Coe (Penguin Viking)
Of Stone and Sky by Merryn Glover (Polygon)
Common Ground by Naomi Ishiguro (Hachette)
How to Survive Everything by Ewan Morrison (Saraband)
The Great Godden by Meg Rosoff (Bloomsbury)
We Begin at the End by Chris Whitaker (Zaffre)
The highly readable stories contained in the six books are wide-ranging in terms of location (such California, Greece, the Highlands of Scotland); themes (including friendship, family, creating identities, exclusion); unforgettable characters (namely, the real Billy Wilder, anonymous narrators, precocious teenagers); time periods from the early nineteen-hundreds to the future). Male authors write as young women; women authors write as boys or men; none write fiction thinly disguised as autobiography.
Mr Wilder and Me, Jonathan Coe
'Whatever else it throws at you,' he said, 'life will always have pleasures to offer. And we should take them.'
21 year old Calista (Greek father, English mother), backpacking in the USA in the mid nineteen seventies, meets by chance the famous film director Billy Wilder in Hollywood. He is about to film 'Fedora' in Greece in an attempt to revive his career and takes on Calista as his translator. Peppered with other 'real' characters (Wilder's co-writer Iz Diamond, Al Pacino, William Holden etc) this is a terrific blend of fact and fiction. As Calista grows into the woman she will become, Wilder reaches into his early memories as a young man in Germany to understand the adult that he became. Engaging, informative, amusing, optimistic and using a variety of styles from narrative to film script, Coe gives us a story very effectively set in its time and place.
Of Stone and Sky, Merryn Glover
'How do we steward the land for the good of the earth and all its creatures?'
A Highland community is stunned by the disappearance of its shepherd, Colvin Munro, who leaves behind him a trail of twelve possessions. His foundling-sister Mo and younger brother Sorley seek to discover why he vanished, and if he is alive or dead. Set on a farming estate in the upper reaches of the River Spey, this intriguing novel follows several generations of a shepherding family in a paean to the personal, political and historical bonds between people, their land and way of life.
Common Ground, Naomi Ishiguro
Stan and Charlie, teenagers from very different backgrounds, find themselves unwillingly living as outsiders within their own communities. After an initial encounter when Charlie comes to Stan's help, their friendship over a short summer develops against all odds. However, this comes to a sudden and dramatic end, and when they meet up again ten years or so later, they seem to have grown too far apart for their friendship to survive. But finding no rapport with their own families, can they still rely on each other? Stories about genuine friendships are few and far between, and this engaging novel about prejudice and preconceptions charts these boys' journeys into adulthood in a compassionate and absorbing way.
How to survive everything, Ewan Morrison
'I'm still alive, and if you're reading this then that means you're still alive, too.
That's something.'
So begins this original tale, or a Survival Guide, on how to make sense of a world turned upside down by a deadly virus. Fifteen year old Haley is abducted with her young brother and taken to a remote location in the Highlands by her father. There, she tries to work out who to believe and therefore trust; will it be her father with his apocalyptic vision of a dangerous and disintegrating society or her mother who claims that those visions are the result of paranoia and that everything will be all right. The reader's understanding is limited to Haley's point of view, resulting in an unsettling, and constantly changing, view of the truth.
The Great Godden, Meg Rosoff
During a family holiday in Cornwall, the happy atmosphere of a large family who are planning a wedding is upset by the arrival of the two Godden brothers; the alluring and charming Kit and the morose, solitary Hugo. The change in atmosphere – from easy, if chaotic, to threatening and dangerous – is narrated by the most overlooked member of the large family. A terrific, unputdownable narrative which takes more than a few unexpected twists and turns. Although it was a Sunday Times Children's Book of the Week, this is very much a novel for adults too.
We Begin at the End, Chris Whitaker
Although another minister uses these same words used in Of Stone and Sky, this is a completely different kind of novel. Set in small-town California and Montana ('where the views of the scenery change from portrait to landscape') Whitaker gives us an unforgettable narrator called Duchess. She's a troubled thirteen year old, protector of her young brother, because her drink and drug-addled mother has never recovered from the death of her own sister decades earlier. When the man responsible for that death is released from jail and returns to their small town, events take a further turn for the worse. Terrifically realised characters from Walk, the police chief, to Duchess and Robin's grandfather in Montana this story takes a hold of its readers from the start and never lets go.
The winner of the 2021 Award will be announced by Rachel Joyce on 9 October 2021.