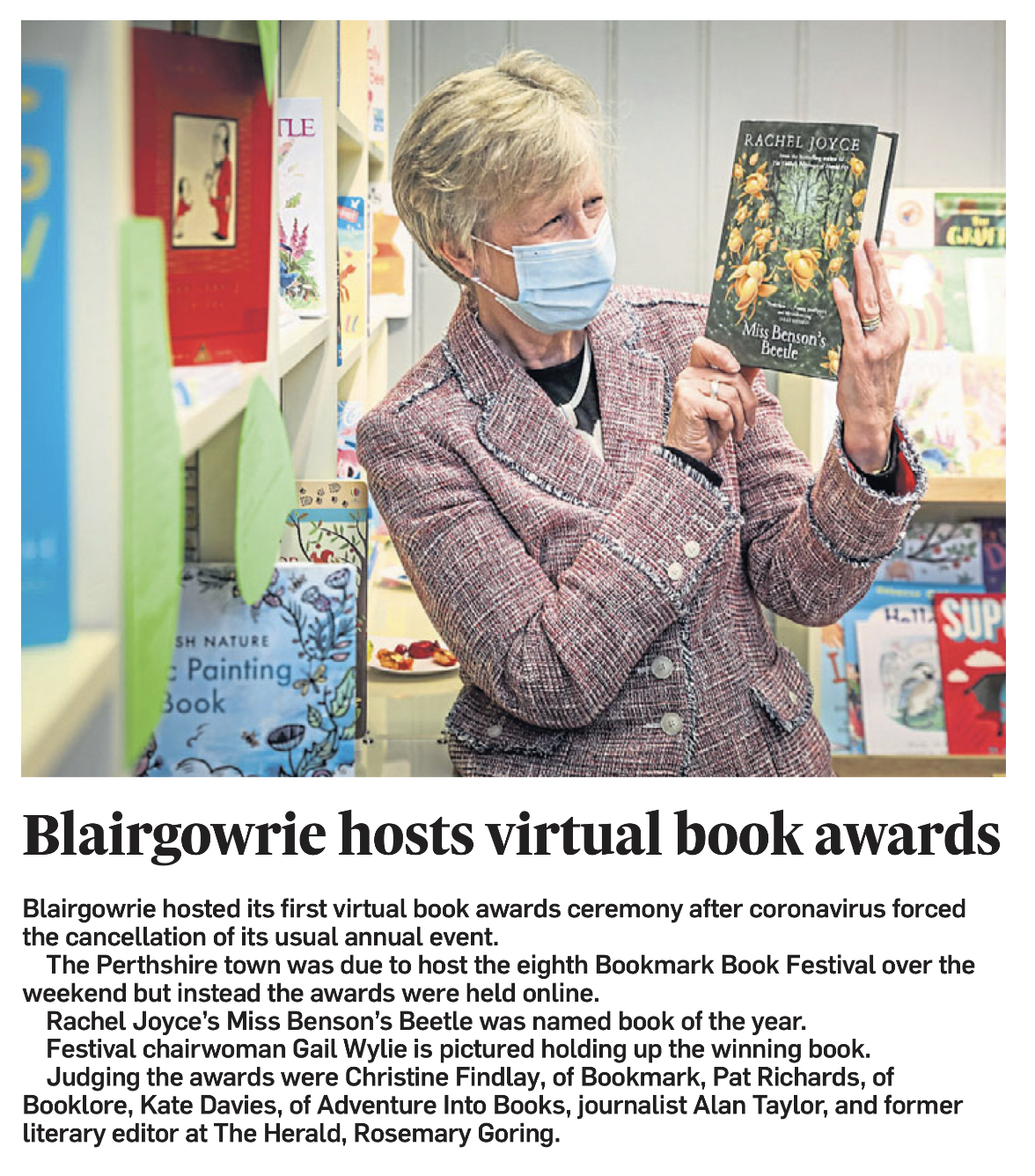 BOOKMARK

Book of the Year Award 2020 - Update
---
And the winner is the terrific Miss Benson's Beetle by Rachel Joyce. It ticks all the criteria for the award: engrossing, thought-provoking, original, and offering book groups a choice for in-depth, interesting discussion.

Attached is a photo of our Chair, Gail Wylie at the 'virtual' award ceremony on Saturday.

This award has brought us not only a lot of new publicity (The Courier, the Perthshire Magazine, publishers' websites as well as great spreads in the Blairie) but has also won us new fans in the publishing industry. Every single writer on the shortlist has expressed their delight at being nominated.

Kathleen and Jan have worked hard to keep Facebook and the website constantly updated about this.

I also wanted to involve other businesses in Blairgowrie. I was delighted that Sarah Cave accepted the commission of designing the prize. (Because all the books were chosen for their quality, each writer has received one of Sarah's in-house bookmarks - thanks to 2 sponsors of these prizes) Booklore asked their volunteers if any wanted to be a judge and Pat Richards eagerly accepted. Adventure into Books also came on board with Kate Davies judging too.

Others on the panel were also chosen for their breadth and depth of knowledge of books. Christine Findlay, as our Hon Chair and founder of BOOKMARK was an obvious choice. I wanted a Patron too and a previous guest - hence my asking Rosemary Goring and Alan Taylor. Everyone took on their role with enthusiasm and commitment and I hope they all had fun reading these books too. (They said they did!) Rosemary Goring has urged me to repeat this award next year.

So a new thought...as who knows what the future will bring.

There will be a 2021 Award but I've decided to tweak this slightly and only have paperbacks. 2 reasons: the award has readers' interests at heart and paperbacks are more affordable, for those wanting to buy. And it prolongs the life of the book as the paperback edition appears a year after the hardback.

This means any novel which appears in paperback between October and the next August will be admissible.

I'd like to have the 5 judges from this year as a 'bank' with 2 of this original 5 each year judging alongside 3 new ones.
Watch this space!!
Gail Wylie
BOOKMARK Chair
Below is Rachel's book with the lovely silver bookmark