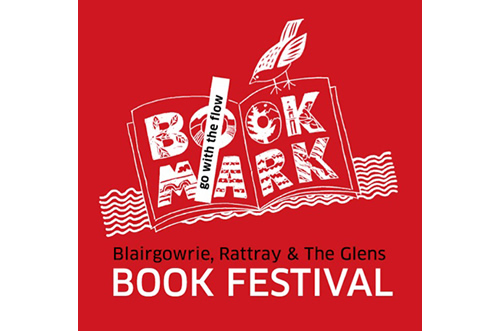 BOOKMARK

Virtual AGM
---
Our first 'Zoom' AGM went very well today. It was lovely to see members joining us from far and near. Because we could not run our Festival last year, the only major news from 2020 was our inaugural Book of the Year Award. This initiative, designed to keep BOOKMARK alive and kicking proved to be very popular, not only with members and the local community, but with the wider world of publishing, writers and their agents. Our five judges (Rosemary Goring, Christine Findlay, Pat Richards, Kate Davies and Alan Taylor) read six books, all chosen with quality book-group discussions in mind, and the winner Miss Benson's Beetle gave Rachel Joyce her prize of a bespoke silver bookmark designed by Sarah Cave, Blairgowrie's silversmith.
The publicity and good will this engendered has encouraged us to run this again for 2021. The judges have been chosen, three books already placed on the shortlist and the silver bookmark will again be the prize designed by Sarah Cave. For all further details please look at our website in March!
We've also been encouraged by the directors of Scotland's three big Festivals (Edinburgh and Wigtown Book Festivals and Bloody Scotland) to plan, albeit very cautiously, our live October weekend. It will be smaller in terms of audience size and number of events, but we are planning for the 2 and 3 of October at the Community Campus – as long as we are allowed to, following Government guidelines. It may be smaller this year, but the quality will be as high as ever and we really hope to welcome as many of you as we can.
Between now and then we will run two or three online events. Once we have confirmation of all the details, our website will tell you exactly how to go about this.
Unfortunately, our schools programme will have to take another break this year, but we WILL return in 2022!
So, with apologies for some vagueness, and hoping you understand our caution, BOOKMARK is delighted that we will be able to offer our supporters and friends some literary entertainment this year.
BOOKMARK would like to thank Steve Johnson from Proactive Communities for his technical assistance with this event.
Please keep reading our website and Facebook pages for ongoing news and book inspiration: if you want to buy your books while all shops are shut, go to Bookshop.org, choose 'Adventure into Books' and they will benefit: and we look forward to seeing you soon!
Gail Wylie
BOOKMARK Chair