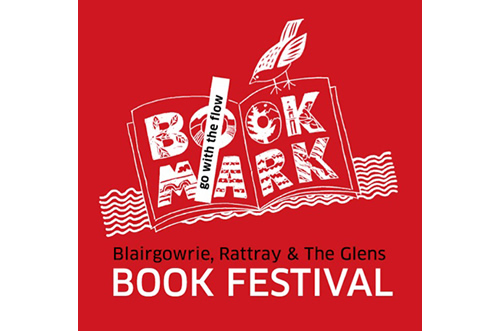 Authors in Schools 2022 - Coupar Angus
---
The
BOOKMARK

Book Festival
team was hard at work in
Coupar Angus Primary School
this week, with a brand-new Authors in Schools (AiS) event for the children. The AiS events aim to get kids enthusiastic about books and the wee P2 and P3 pupils certainly loved author
Mike Nicholson
's introduction to his
Thistle Street
,
Thistle Sands
and
Thistle Games
books. "Heid, shooders, knaps and taes" and braw Scots words like "havering" and "sleekit" were new for some and fun. "I loved going the journey through Thistle Street", said Ross, while Belle "liked the dressing up bit" at the beach.
The P3 and P4 children had a wild time with author David MacPhail, diving straight into the action in Velda the Awesomest Viking and the Ginormous Frost Giants, while the P6 and P7 pupils found out just how entertaining reading books is when they met Mark A Smith, author of Slugboy Saves the World. Afterwards, David MacPhail and Mike Nicholson had fun cutting the ribbon to open Coupar Angus PS's new library.
And Inspire Theatre Workshops opened up an imaginative world of drama for all the kids with their dynamic and bubbly sessions based on the authors' books. For their part Inspire "found the children to be engaged, eager, kind and creative. What a pleasure!"
Authors in Schools volunteers had fun judging all the children's inventive submissions for the creative writing competition and, with difficulty, picked out one or two winners to receive book token prizes.
The kids all loved this memorable day, as did Councillor Michelle Frampton, who visited the school and enjoyed the lively sessions.
But there was even more to come for the P6 pupils when John Easson of Quarto Press arrived to show them how printing used to be done hundreds of years ago and to help them do their own typesetting and printing on his 100-year-old presses.
Some comments from the Coupar Angus pupils:
P2/3 - re Mike Nicholson: (Ross) I liked travelling in the books;
(Patrick) liked it when he explained how he got his ideas;
(Michael) liked it when he read his book;
(Eva) very funny when he put on his beach hat and towel;
(Oscar) I liked the tug of war and the midges
Re drama: (Ross)That was the funnest experience of my life;
(Jacob) I liked everything - the drama and it was great when the author came in
P6/7 (Anon) Wow I really liked the drama; (Kieran to Mark Smith ) Your books are really good.