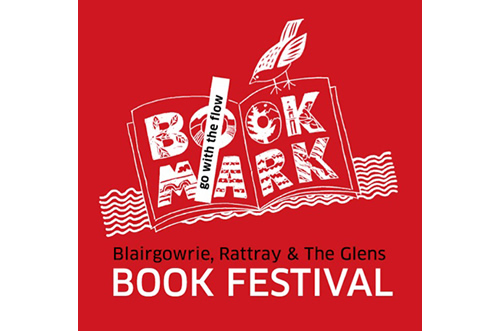 Kate Davies' Book Selection for October 2022
---
BOOKMARK

Book Recommendations: October 2022
Our FESTIVAL month! There's something for everybody from art and the history of Mary, Queen of Scots, to wildlife photography, crime fiction, music and BOOKMARK's Literary Awards. After the Festival, your book piles will be groaning! Nevertheless, I've a few more suggestions to add – some are an evening's read, others will last you well into next year.
Ahead of the Festival, the bookshop's new Book Blether Group has been reading Lin Anderson's The Killing Tide and I'm looking forward to starting Lin's newest book, The Party House – after I've got it signed at the Festival! See below for publication details of all the main books featured at the Festival.
My fiction recommendations this month must include the late Hilary Mantel's Wolf Hall trilogy. They are lengthy and the style doesn't appeal to everyone, but I loved these books and will be re-reading them. My next recommendation is a somewhat slimmer volume, Jean Giono's The Man Who Planted Trees, which has recently been republished.
To round us off for this month, two non-fiction books. Staying with our theme of nature, the first is this year's Winner of the Wainwright Prize for Nature Writing: Goshawk Summer: The Diary of an Extraordinary Season in the Forest by James Aldred. I've just realised my list this month is one of contrasts, but I make no apology for the rollercoaster. From people-free nature we go to people in the worst of circumstances in Ben MacIntyre's Coldiz: Prisoners of the Castle.
Enjoy!
Kate BOOKMARK member
PS: The Adventure into Books Book Blether Group meet at 7pm on the first Wednesday of the month, in the bookshop. All are welcome. Our next two meetings are on 5th October at 7pm, when we're discussing Lin Anderson's The Killing Tide (details above); then we'll be meeting on 2nd November, to chat about O Caledonia by Elspeth Barker (ISBN: 9781474620512, paperback, Orion, 2021).
Publication details of the 2022 Festival authors' latest books, published in 2022 unless otherwise stated:
•Lin Anderson, The Party House: ISBN: 9781529084511, hardback, Pan Macmillan
•Hania Allen, The Murder Stones: ISBN: 9791472131690, paperback, Little, Brown Book Group
•Neil McIntyre, Chasing the Deer: ISBN: 9781913207274, hardback, Sandstone Press, 2021
•Merryn Glover, Of Stone and Sky: ISBN: 9781846976087, paperback, Birlinn General
•Olga Wojtas, Miss Blaine's Prefect and the Weird Sisters: ISBN: 9781913393380, paperback, Saraband
•Lachlan Goudie, The Story of Scottish Art: ISBN: 9780500296950, paperback, Thames & Hudson
•Alice Strang, Modern Scottish Women: Painters and Sculptures 1985-1965: ISBN: 9781906270896, paperback, National Galleries of Scotland, 2018 •Jock Duncan, Jock's Jocks: ISBN: 9781910682333, paperback, NMSE Publishing, 2019 •Simon Conway, The Saboteur: ISBN: 9781529334333, paperback, Hodder & Stoughton
•Chris Brookmeyer, The Cliff House: ISBN: 9781408712177, hardback, Little, Brown Book Group
•Rosemary Goring, Homecoming: The Scottish Years of Mary, Queen of Scots: ISBN: 9781780277233, hardback, Birlinn
•Clare Hunter, Embroidering Her Truth: ISBN: 9781529346244, hardback, Hodder & Stoughton
Books Shortlisted for the BOOKMARK Book of the Year Award 2022, all paperbacks and published in 2021 or 2022:
•Hope Adams, Dangerous Women: ISBN: 9781405943161, Penguin
•Andrew Greig, Rose Nicolson: ISBN: 9780857054869, Quercus •Graeme Macrae Burnett, Case Study: ISBN: 9781913393441, Saraband •Andrew O'Hagan, Mayflies: ISBN: 9780571273713, Faber & Faber
•James Roberston, News of the Dead: ISBN: 9780241986622, Penguin
•Rose Tremain, Lily: ISBN: 9781529115178, Vintage
All of these books will be available at the BOOKMARK Festival on 8-9th October. They are also available at Adventure into Books or can be purchased online through Bookshop.org: Adventure into Books Bookshop UK . The books may also be available in Blairgowrie's second-hand, community bookshop, Booklore, or the Blairgowrie Library.