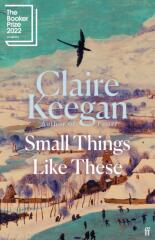 Small Things Like These

by Claire Keegan (Faber, 2021)

Fiction

Small Things Like These by Claire Keegan (ISBN: 9780571368686). Winner of the 2022 winner of the Orwell Prize for political fiction, this slim, powerful story has been a firm favourite with many of the bookshop's customers. It is a story of a community and its institutions and what happens when people look away, don't want to get involved, don't want to risk the thinly veiled threats of what will happen if they upset the status quo. But more than the high religious politics, this is about the effect on individuals – how they are both encouraged and warmed, and let down and dehumanised. Literally next door to each other. Simple. Devastating.