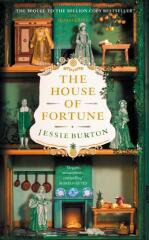 The House of Fortune

by Jessie Burto. (Picador, 2022)

Fiction

The House of Fortune by Jessie Burton (ISBN: 9781509886081) which picks up the tale of Nella, some 18 years on from The Miniaturist. We're still in Amsterdam, but it's now 1705 and with the family fortunes fading, Nella is keen to see her niece, Thea, marry well and secure their futures. But the cryptic miniaturist's symbols continue to influence, and the past is never far away in this story of heart-ache, peril and the hope of peace.